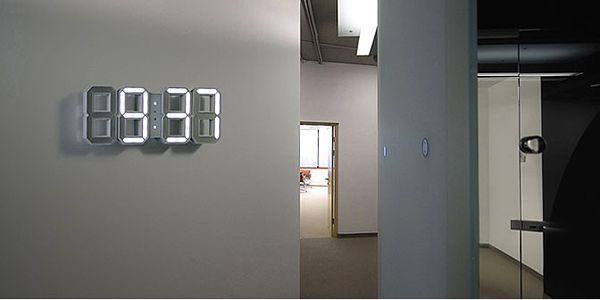 Designer/Manufacturer
Overview
White & White wall clock is a simply astounding clock, which happens to be a modern 3D elucidation of the conventional digital clock. Russia based designer Vadim Kibardin has made sure to throw in all the creative elements to create this absolutely brilliant wall clock.
What's unique
White & White wall clock is a simple LED clock that features white frame digits. Though it doesn't have any glamorous feature attached to it but the simplicity of this watch grabs all the cookie point. Furthermore, it also has an alarm feature and is decked with 24 hour time display mode.
High Points
Like the name suggest, this amazing wall clock switches between two shades of white. And when it becomes dark, the light sensitive sensor fitted inside the clock turns the intensity of the digits to a calm shade of white.
The clock is powered through a general mains-operated charger that fits any socket.