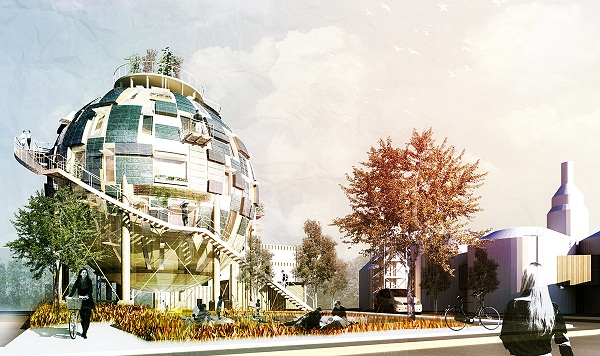 You might hold onto the sacred cross or holy water when the time comes to face them, but you can never tell if you are well prepared or not to stand out against the outbreak from the otherworld. The dark powers will set loose upon the world: zombies and phantoms, witches and warlocks, rougarous and werewolves or for that matter even vampires and scary clowns. Even though naysayers debunk it as folklore, there are many staunch believers out there. With so many urban legends doing rounds, word about supernatural forces is also seeping into pop culture. You can either go underground until the Golden Age arrives or join forces with the Armies of Heaven when the apocalypse disembarks. Whatever you choose to do, these houses will help you out when the time comes to face all the corpses that have come back to life.
The first zombie proof house with Movable walls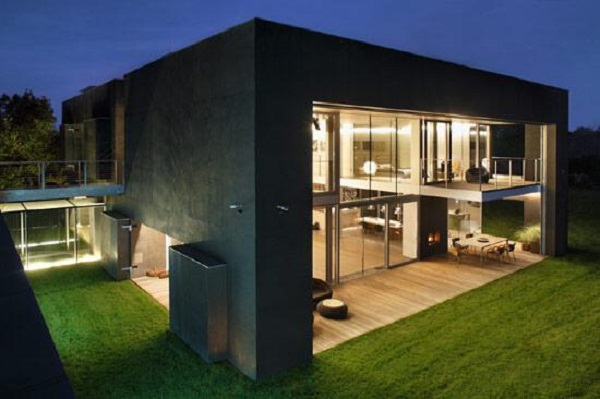 Well, this structure that closes itself completely shut will ensure your safety when the army from the hell comes marching by. All openings, even the windows and doors, will be sealed by slabs of concrete. The enclosure will leave only one spot for going in and out that is the notch on the second floor with a drawbridge. The way the structure just locks up and turns into an all enclosed box is simply astounding. Dubbed as "The Safe House", this one is designed by KWK Promes. Moreover, on the usual days, you will love residing in this fab looking glass and concrete monument.
Zombie Proof house by Austin Fleming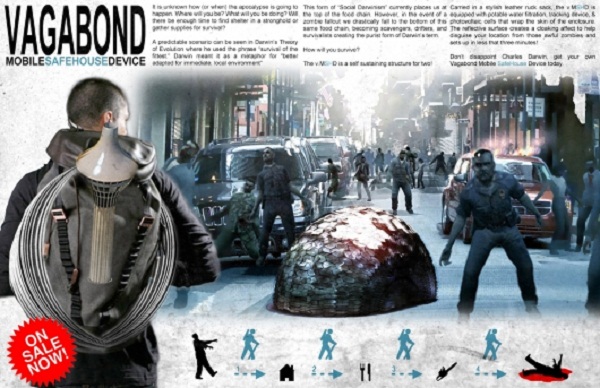 You must understand that there will be utter chaos when the Beast unleashes his wrath on humanity. With a full blown battle going on close to Judgement day, then there will be no place to hide. Also, some would rather go out hunting the undead before they track you down. If so, you are going to need some assistance with your plan and this crafty home offers an easy solution. The mobile abode runs on renewable power sourced from the wind and sun. It can filter water and also grow food. It is lightweight yet strong and you can easily carry it like a backpack. The spring loaded house glues tightly to any spot and from the outside it looks like the shell of a turtle. You can lay it out or pack it up in less than three minutes! The design by Austin Fleming has won the Gold Shovel Award.
Oil Silo Home, designed by pinkcloud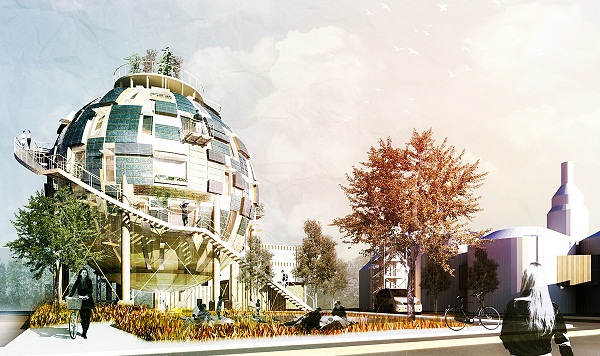 If you are looking for a shelter to defend yourself during the end of days, then you must take a look at this abode designed in Berlin. The safe haven has a retractable stairway to keep the bogeyman out. Take a defensive position at the rooftop and fire away wooden sticks, silver knives and other artillery drawn from old age lore's. The house has fire and bullet resistant sheaths. When you are not at battle, the abode made from salvaged materials, will be a great living space. The robust, stable and waterproof pad has multiple levels. It has a green roof and water storage facility at the bottom. The easy to assemble building even slots in a green wall, air purification system and an electric charging station. Moreover, this house is built out of discarded oil silos hence also chips in towards the green movement. It is like a micro ecosystem that will help you survive when catastrophe strikes. The mind boggling structure stood second at the "Silver Machete Award."
Suzanne Husky's Zombie Proof House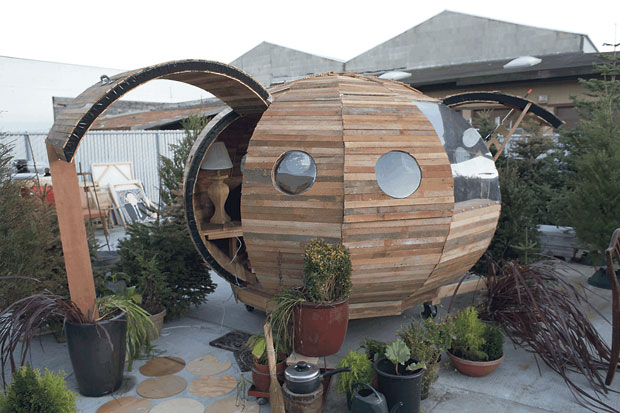 The day of reckoning has been cited a number of times and many people are gearing up for it. A recent exhibition at the di Rosa's Gatehouse Gallery was laid out especially for this clan and it showcased exclusive zombie proof homes. Arranged by di Rosa curator Robert Wuilfe, it delves into various issues like political upheaval and possibility of collapse in the future. At this do, the protected Sleeper Cell Round by Suzanne Husky was also displayed. The earthy looking globular home will be a safe retreat.
Zombie Proof House by Christina zeros and Matt Zorden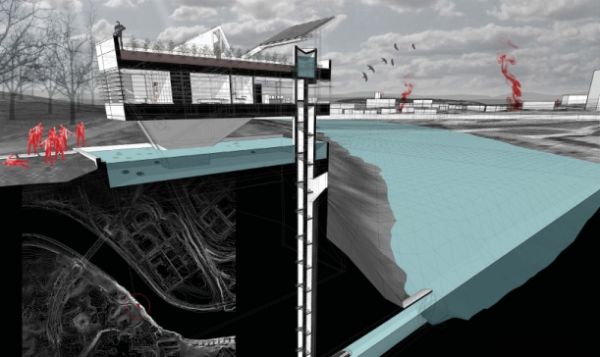 This abode is built to help you survive through the zombie plague. The house stationed near a cliff along the Tennessee river has two beds and a single bathroom. It is outfitted with solar panels and a garden. Arrangements like rainwater collector, cistern and a purifier have been provided. The structure has a drawbridge and an also a weaponry arsenal. There is an escape route behind the fireplace that leads to a subterranean boat canal in case flesh hungry zombies come by. The boat canal is guarded by a steel gate and will ride you straight into the Gulf of Mexico. Even if the day of reckoning doesn't arrive any time soon, you will always be proud of this lavish pad located in midst of the lush green country. The marvelous view of the landscape from here is breathtaking.
Zombie Ranch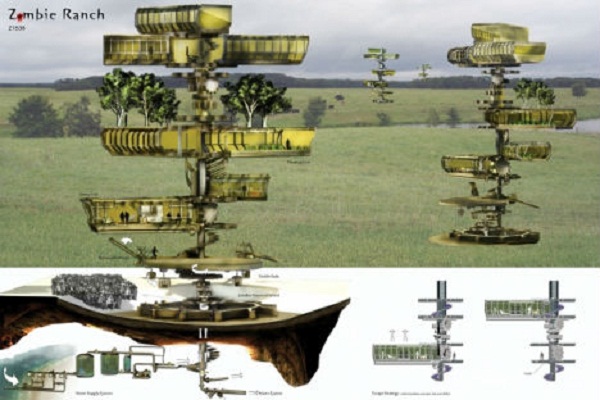 This is a really good way of getting back at diabolical creatures. This house reverses the voodoo spell and casts it back on the zombies who are attacking you. You will be curled up calmly on a higher floor of this high rise and meanwhile the zombies trying to get to you will turn the drawbridge. Doing this will not provide them access to your building instead their actions will only power up your abode. Of course, the possessed creations will remain unaware of this and you will safely use the retractable bridge to go in and out of your nest. The abode contains living units and place to grow food.
LifeBuoy zombie safe house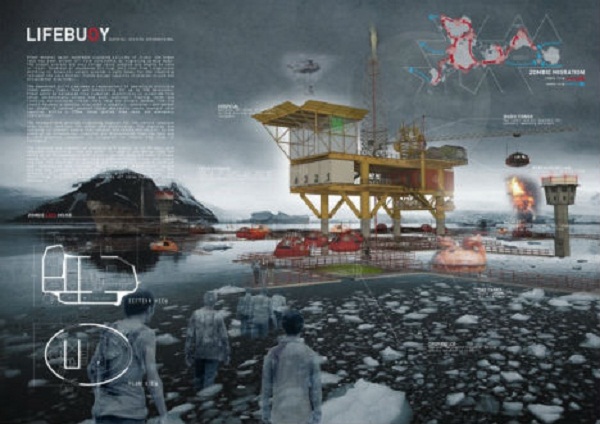 What if this carnage let out by the evil forces spreads far and wide when the apocalypse arrives? Who knows, there might not be enough space on land. In such a scenario, this water borne abode will be your safe retreat. Made from an abandoned oil rig, it is well capacitated and can accommodate about 500 people. Food storage zones, hospitals, markets, radio towers and even fields to grow food have been built inside. It is really like a small self sufficient city floating on water.