It is not possible to live in a house that has edges in walls and ornate corners. In order to get the house of your dreams, you would have to spend quite a bit on the interiors. While this is possible for those who have the required backup to go haywire on your budget; the challenge comes with those who cannot go beyond their budget. Well, one of the many solutions that you have on this front is to opt for the latest false ceiling designs. These solid or lacy designs can help in transforming the look of your ceiling for a long time. Let us check out a few incredibly beautiful and stylish false ceiling designs you can consider this year to add some spark to your interiors.
1.     Well Defined and Dark false ceilings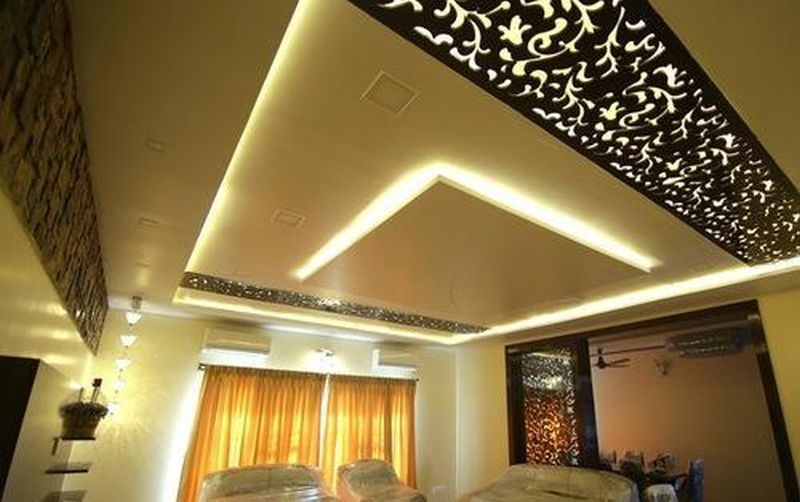 Instead of the boring dull or classic colored false ceiling, you can give it a special touch by adding some nice color to it. For example, if you want to install one in the hallway, then consider covering just a small portion. To complement your interiors, choose a nice color that matches with your upholstery. You can also consider going with the neutrals pallet in case you have a habit of changing your upholsteries regularly. To bring in the well-defined look, opt for differently colored false ceiling lights to suit the mood.
2.     Light and White latest false ceiling designs
The beauty with light colors is that you can easily use them in the best ways possible. Even if you want to play it safe, choose the classic white color. To take out the boring look, add a touch of colors here and there to give your false ceiling a more defined look. Undefined lines and curves are also a few ways that you can bring in the element of design to your false ceiling.
3.     Dedicated coroners false ceiling designs for living room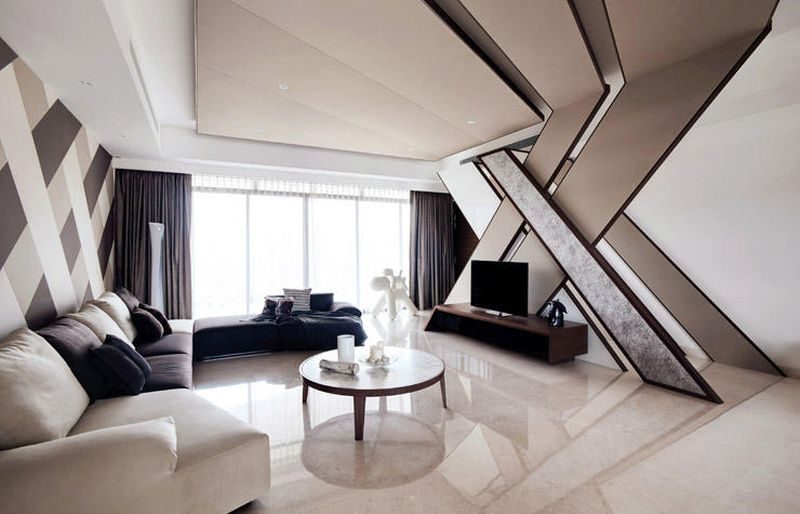 Looking for ideas that can make your house more stylish? Well, one way to do it is by making dedicated corners. To give your ceiling a well-adapted and organized look; consider having dedicated corners for your fans and lights. This will not only bring out the beauty of any of the latest false ceiling designs that you choose; it also makes it easier for you to decide what kind of design you would like to go for.
4.     Geometrical pattern false ceiling design for bedroom
Having a geometrical pattern in any space of your house is the cherry on the cake. These sorts of design are not only beautiful to look at; however, they also add the element of style. When you are considering any of the latest false ceiling designs; you can look at some of the inspirational ideas to bring in the geometrical pattern for your room. A blend of darker and lighter tones with hidden lights will bring out the difference you want to create.
5.     Play with blanks and checks along with false ceiling lights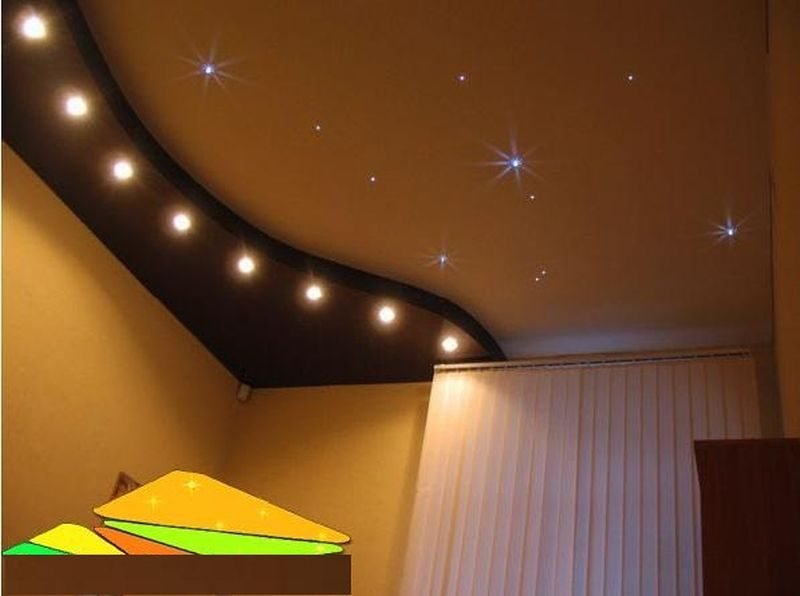 The best thing about blanks and checks is that these designs bring in a level and balance to the house. They also help in making the room more imposing and cold. There are various kinds of latest false ceiling designs that emphasize this concept. To bring in the charm of the design, choose your lighting fixtures and hues properly.
6.     Bright lights for the celebration look
While choosing simple false ceiling designs for the living room; you can bring in the element of surprise by opting for bringt lights. This will brighten up the overall look and feel of your house and at the same time go easy on your pocket. Bright lights also help to uplift any color tone and give an effortless and sophisticated look to your décor. This is also a perfect option for those who want to maintain simplicity in the design of their ceiling.
7.     Round or oval shaped incisions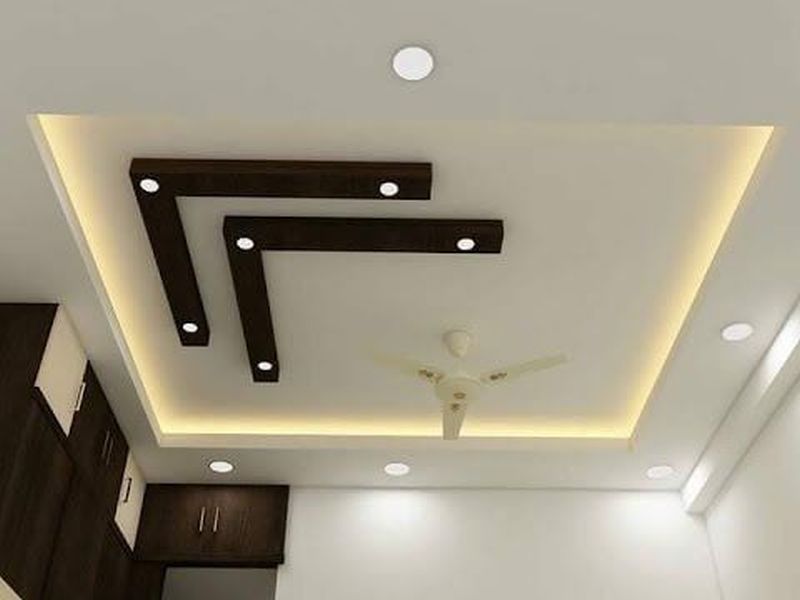 For your living room or hallway, one of the latest false ceiling designs that you can consider is the round or oval-shaped incisions. These sorts of designs not only look good but have a very appealing touch. You can play with differently sized incisions to bring in a variation to the look and design of your false ceiling.
8.     Classics can never go wrong
There are some people who love to maintain the classic touch. The best part about these sorts of false ceiling designs for the bedroom is that they are always on the list. To give your space an interesting look, go for brown or any dark shade. Also, remember to pay close attention to the kind of lights and lighting fixtures you choose. This will help you to play with your décor and also highlight the best part of the room.
9.     Let the bling set in with the latest false ceiling designs in Gold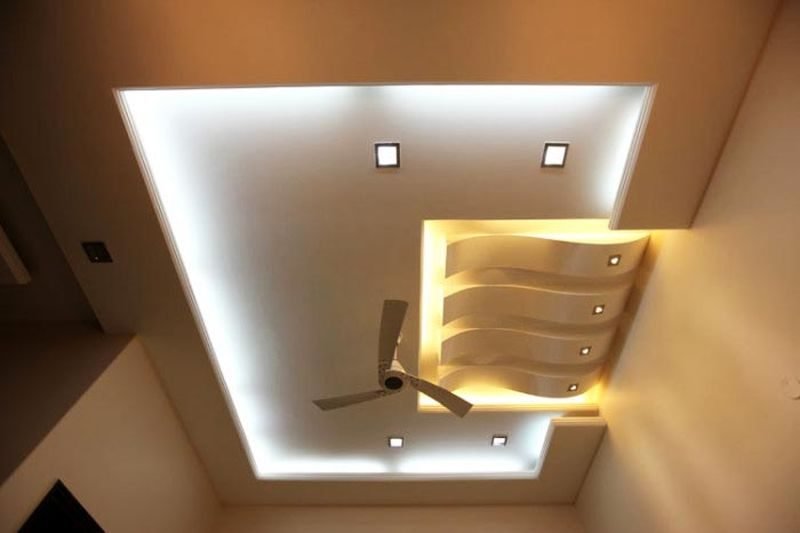 While you can get the golden touch with false ceiling lights; nothing can take away the real charm of the color. When choosing this color, you have to make sure that you do not overdo the interiors. Gold on its own is a handful that can easily boost the look of any space. For those who want to add some volume to the color, opt for the metallic finish instead of the matt.
10.When the floor and ceiling meet
For small or narrow spaces, you can increase the volume of the area by blending a few latest false ceiling designs alongside the wall as well. By creating the extension that starts from the ceiling and ends on the floor; you care to give the illusion of the two being one. Moreover, this gives you more space to store things. Choose any one wall in the room to bring in this effect and see how much difference it can make.
11.The ideas are endless
There are endless ideas that you can consider while choosing false ceiling designs for the living room. What you need to really keep in mind is that no matter what design you choose, it is essential that the detailing should be of the right size.