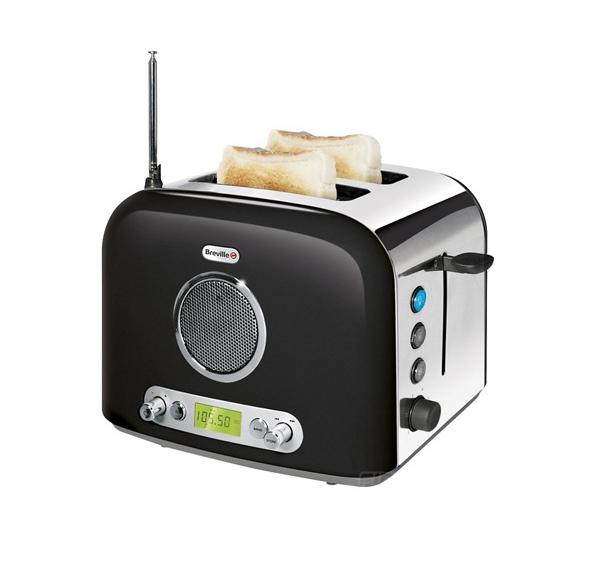 The Product:
Breville Radio Toaster is a contemporary convergence product that combines the radio in a toaster. It can also be called a radio with a toaster. This toaster has a range of browning functions with two bread slice slots. In addition to that, it also includes all the functions of an AM/FM radio.

Brainchild:
It is the brainchild of the engineers at Breville, who have designed and manufactured this convergence product.
Overview:
This radio toaster has a chic and stylish retro look with two slices slots and controls for variable browning effects. As all the controls are illuminated in blue light, it gives a classy look to the product. The AM/FM radio is of high integrated quality with an illuminated digital display. As there is a preset graphic equalizer, the quality of sound is mind blowing.
User-Friendliness:

Width of the slice slot can be adjusted according to the size of your slice. This toaster also allows you to cancel the toasting cycle in between. As there is a high lift, it is easy and safer to remove the toasts. This also has a 'Defrost' and 'Reheat' function. The completely removable crumb tray makes cleaning an easy task. You also have the facility to plug in an auxiliary MP3 player to this radio toaster.
Utility:
As this product combines two essential gadgets of kitchen, it occupies less space in kitchen. With this wireless radio toaster you can access high quality Internet radio stations too. Since it lets you to connect to an iPod or MP3 player, you have choices of hearing your favorite music while you toast.
What's in for me?
It makes your morning cooking chores more interesting and enjoyable as you can lend your ears to favorite music with the 10 preset radio stations or from an auxiliary device. Since it combines two things in one, it is an ideal gadget for kitchens that lack space.
Via: Gadgety News