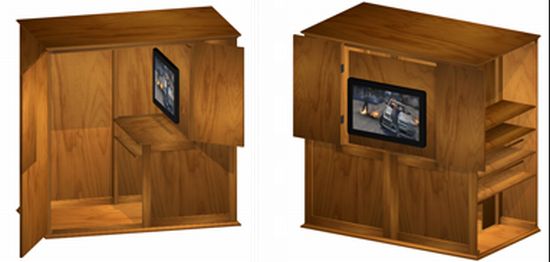 What could be more engaging than an ultimate private theater experience for ardent gamers and movie buffs? This amazing entertainment center from the house of Pandorex GameBox can be used as a sit-down arcade for gamers or a private theater for watching your favorite flicks. Designed as a DIY kit, the Pandorex GameBox entertainment center is made from real wood and has enough space inside, so that you can enjoy arcade gaming or movies in your comfortable chair. You can hook up your XBox, PlayStation, Nintendo, DVD player or computer to this sit-down arcade system.
The flat panel TV can be rotated both outwards and indoors as per your liking. When you rotate the TV indoors, you can enjoy the ultimate in privacy with no distractions. The shelf on the outside can be used to place your gaming consoles and other gadgetry. The additional two shelves can be used to store games and movies. The Pandorex GameBox line includes two products, the GameBox – Alpha and the GameBox – Refined.
No word on pricing, but the Pandorex GameBox looks to be the just right thing that can enrich the gamers with an amzing theater experience right at home.