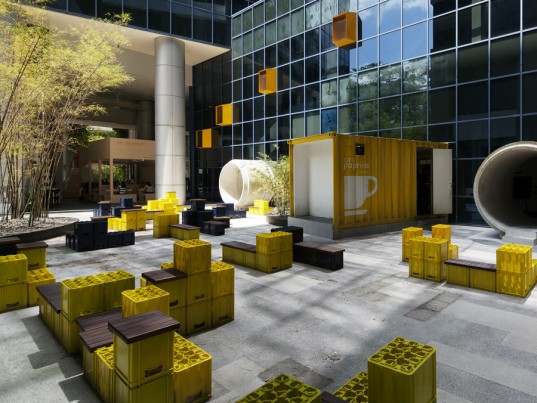 Inspiration: Ascendas (project by Formwerkz Architects)
To a greater extent, more and more people are considering green products and techniques for their home renovation. Going green is a term we hear en masses. There is plethora of industries apparently trying to capitalize on the trend. One such example is Ascendas who had tasked Formwerkz Architects to retrolift the lobby of their Singapore headquarters. Earlier, the Galen Lobby was like a boring and traditional lobby but Ascendas wanted to rope in something exciting that would be energy saving at the same time. If you too like the makeover and want the same for your home, take inspiration from this project and add green credientials, which will give an ultimate look.
How to get the look
To get this sustainably stylish look, start off by taking a go-for-recycling approach. Just like Ascendas, you too can make use of beer and wine crates to incorporate seating arrangement, which is distinctive and eco friendly at the same time. You may get stuck at proper execution here, which takes in to concern decorating and functionality aspects. For that, contact any designer or studio near you. A more affordable way to do this is by searching online. Designers and studios working online generally charge less.
In order to protect the interior while allowing air to pass through, you can use a rain shield made from PVC pipes.
The seating made from beer crates can be used in numerous ways. The lunch boxes provide dining below and a lounge with top view.
For fresh air, you can remove any glass wall or curtain to open up to the outdoors. In case this is not possible, fan boxes with exhaust fan can be inserted.
Bring in indoor plants to enhance freshness and beauty. Read our guide on the best indoor plants and flowers, and choose the ones that you like most..