The royal Indian look could be the ideal look for your home. Luxurious interiors in bright colors are inviting and refreshing to look at, and spell elegance as well. Indian interiors have interesting variants throughout the country, due to cultural, historical and geographical differences. Some elements like bright colors, exquisitely carved handicrafts, ethnic Indian motifs and prints, traditional Indian art on the walls, brass lamps and small and big sculptures can be used to create a beautiful royal Indian home décor.  Here are some more ways in which you can give your home a royal Indian makeover:
Texture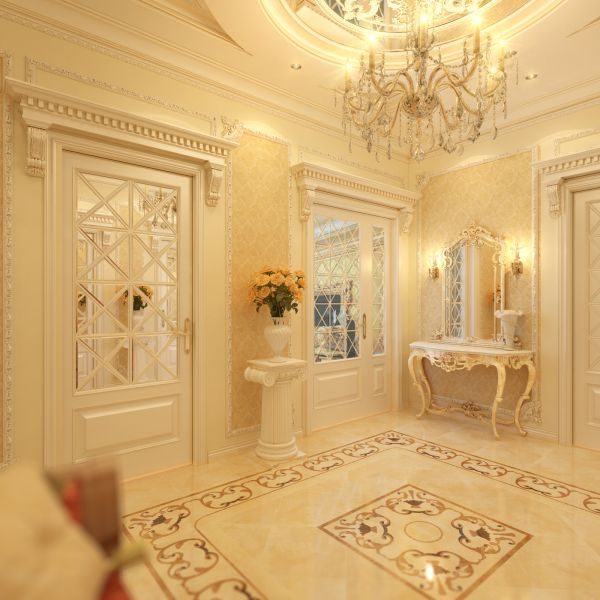 Incorporating texture is various forms – fabrics and metals and surfaces into your interior can give it a rich look. You could use richly embroidered fabrics in cotton or silk in traditional Indian motifs to transform your décor into a royal Indian home décor. You can have gorgeous silk drapes for windows, use ikat for cushions and centrepieces. Khadi and cotton in paisley patterns can be used for side chairs. You can hang decorative tapestries with mandala or nature-inspired motifs to add an interesting element to the room. Canopies over the beds, patchwork quilts and lush carpets can add to the royal look.
Blend deep, rich hues with earthy tones
One of the essential elements of Indian home design is color. India is a vibrant country with a tradition of using bright colors, which range from deep purple, indigo, shades of blue and green, yellow and red. You could paint a single wall in a deep shade as the primary color and the other walls in a matching tone. Earthy tomes such as ochre or burnt oranges look great on walls, whereas you can use beige, white blush pink, or camel (which are on trend in 2017 btw) as relief to the bold colors.
Handcrafted furniture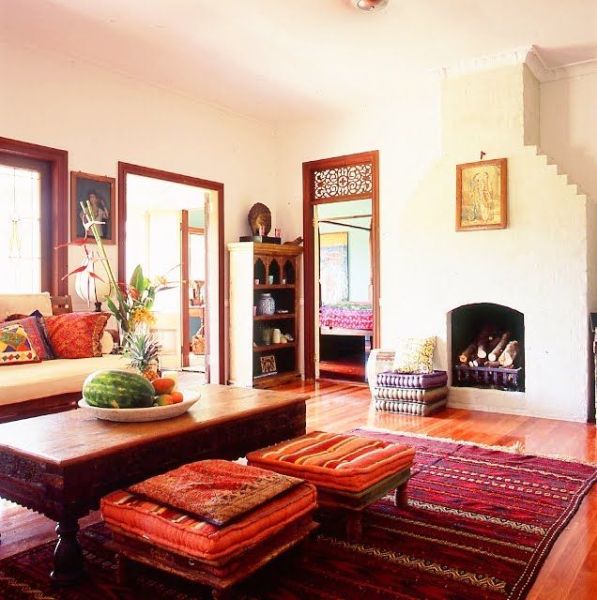 To makeover your décor to the royal Indian home look, introduce some pieces of furniture made from solid wood, which is intricately carved and are stunning examples of artisanship. Furniture with curved legs and armrests, ivory or metal inlay work can alter the look of your home completely. Even if you want to stick to your comfortable couch, you can upholster it resplendent silk with flower patterns or just plain silk to take your couch to another level. You can buy an ornate centrepiece and buy some understated furniture to complement it. Wooden chests, bird cages, footstools can be used to add to your décor an interesting element. If you have enough space, a wooden swing, which was traditionally a must for Indian home design
In some parts of India can add to the royal look.
The world over, people are opting for furniture as an investment. You can do that too, by selecting in one or two expensive antique pieces, which will add value to your home.
Paintings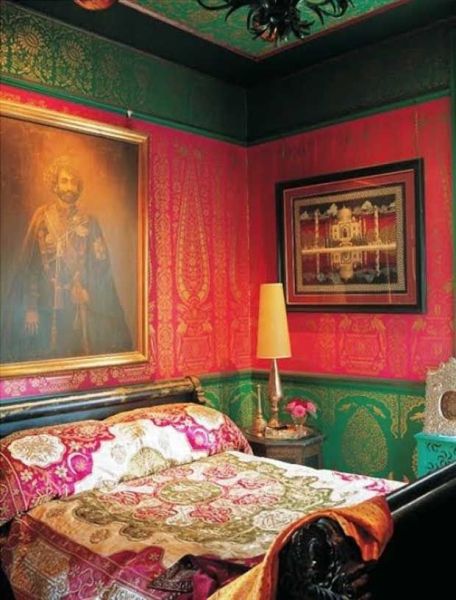 Art has been an integral part of Indian culture. Your ethnic Indian interior can feature traditional Indian art such as Rajasthani miniatures or Madhubani paintings. You can create a gallery wall of paintings, with a Tanjore gold-leaf painting as the centrepiece. You can even have your family portrait done in the Raja Ravi Verma style, frame it and use this as a unique centrepiece. 
Sculpture
Ethnic Indian interiors are characterised by statuary. The most popular are Buddha and Ganesha statues, followed by elephants, turtles, camels and so on. You can place stone or metal figurines to as room and foyer accents. Bronze statues are classic and look magnificent.
You can have a large bronze statue as a centrepiece and smaller ones to complement it. You could also use bronze lamps and vases around the house to add some classic detail to your home. Brass and marble statues will also add a luxe touch to your home.
Seating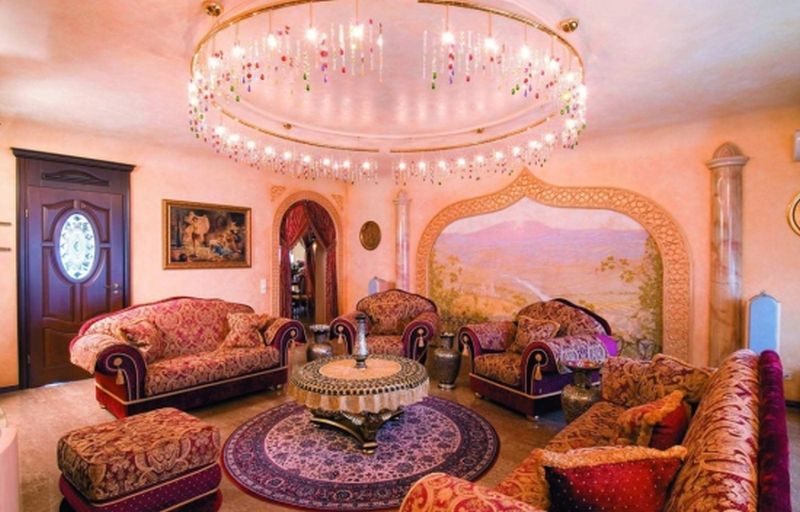 Seating can be at different levels, using divans, high chairs, footstools and sofas. Floor cushions, carpets and rugs lend warmth, sophistication and comfort to your decor. You can create relaxed and formal spaces for comfort and beauty both.
You can transform your home with a royal Indian makeover by introducing gorgeous textures, beautiful handcrafted furniture and statuary and vibrant colors, to make your home elegant and regal.