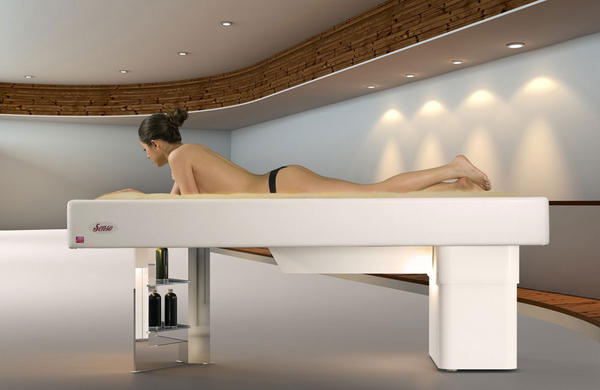 We are all cognizant of benefits of water based furniture particularly recliners and beds in our homes. And to further elevate this soothing experience, I.SO Italia SpA has introduced a line of water beds – "I.SO BENESSERE". The Senso water-bed is not only a piece of visual appeal crafted in wood, with a streak of imitated leather but is also multifaceted on its utility factor.
One can leverage the electronically controlled chromo-therapy programs including- harmonizing, energizing, revitalizing with Senso water Bed. Furthermore, the optional water jets system embedded in the mattress of the bed can be tweaked in any direction.
Even the mattress of the bed have been designed in such a way, that it minismises the wave-effect produced by the user's movements. Also, a steel tank is provided with the mattress in order to avoid any leakage, a common occurrence in water beds.
And not to be missed! Its 160W collagen neon lamps for photo-rejuvenation treatments, gives an illuminating effect to the water bed. Starting at a price band of $10,920, it is an envious piece of furniture in you home by your neighbours.
Via: Extravaganzi.com