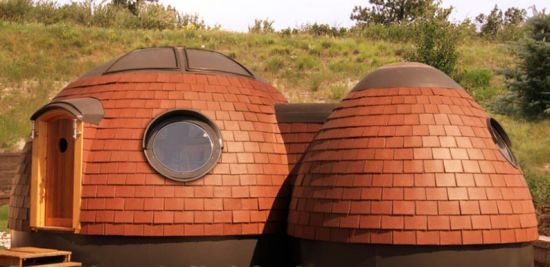 We, at HomeQN, are always on the hunt for innovative eco-friendly homes, and the Ecological Habitation Pods from the house of Eco Hab Homes are no exception. These pods have been designed with a view to offer a perfect blend of style and sustainability. Besides being eco-friendly, the house is also modular at the same time. Care has been taken to maintain the eco-chic designer look along with facilitating the basic amenities. With the incredible layout and design, the small interior space are well utilized to outfit the circular interiors (Not to miss the gallery after the article). These pods come in three sizes 4 m (13 feet diameter), 6 m (20 feet diameter) and 8 m (26 feet in diameter), and can be one storey, two storey or upto three storey as well.

There are optional solar panels, rainwater collection systems and even wind turbines which can be installed whenever needed. Besides that there is a fully functional kitchen with energy efficient appliances, built in cupboards and sofa, shelving units, desk and work station, CFL light fixtures and under cabinet lighting, low flow aerated shower heads, dual flush toilets and in floor heating. All these home appliances and fixtures were chosen for energy efficiency as often as possible.
The two storey pod can accommodate 3 to 4 bedrooms, whereas the three storied pod can accommodate 5 bedrooms, a games room, living room, and a 3rd floor viewing lounge. The price of these homes ranges from $13,565 USD for the bare bones one storey 4m shell to $97,080 for the 2 storey 8m turnkey model. The pods with stylish look on outside as well as inside are definitely designed for day-to-day living.