Bachelor life is wonderful –you are not answerable to anyone, live and eat as you choose. The downside is that you also have to maintain your flat alone. You have the desire to have a stylish, tasteful pad, but maybe apprehensive that you will not be able to keep it in order all by yourself. So the minimalist design scheme is best suited for you, as it eliminates all the extras, keeping only the bare minimum, and yet looks great. Check out these great tips to design a minimalist bachelor pad:
Tips for minimalist bachelor pad
The minimalist design is greatly valued for a big advantage– you don't have to break the bank to execute it, so if you're planning a design overhaul, you can do it easily on a budget. You might find the items you want in flea markets, thrift store or online.
The living room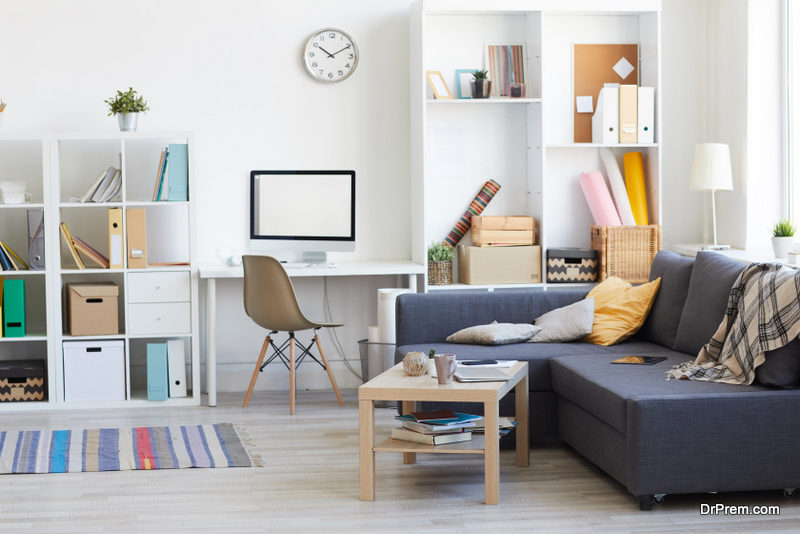 If your living room, dining and kitchen area are in a single space, then you can use the bare minimum of furniture to open up the space. The color on the walls can be white, which increases the illusion of space. Create an accent wall with a bright color, such as lemon green or orange with a texture. Or else, choose the rug in a bright color.
In one corner of the living room, you can have a small workstation or your dining table can double as your workstation, if you work with just a laptop. You can add a shelf on top of the table as additional storage. A natural wooden log shelf would give a rustic-minimalist feel to the space.
Read More: 7 – Cool desks for your home office
Lighting
There should be minimum of artificial light fixtures so as to protect the bare aesthetics of your pad. Look around and choose the right lighting fixtures and lamps from IKEA or other online stores.
As you do not have much furniture in the rooms, then you have to choose the fixtures and amount of light carefully. You should use natural light as much as possible, which is better for mental and physical health as well.
When the sun goes down, to light up your rooms, use three way bulbs and dimmers to increase or decrease the light strength.
The kitchen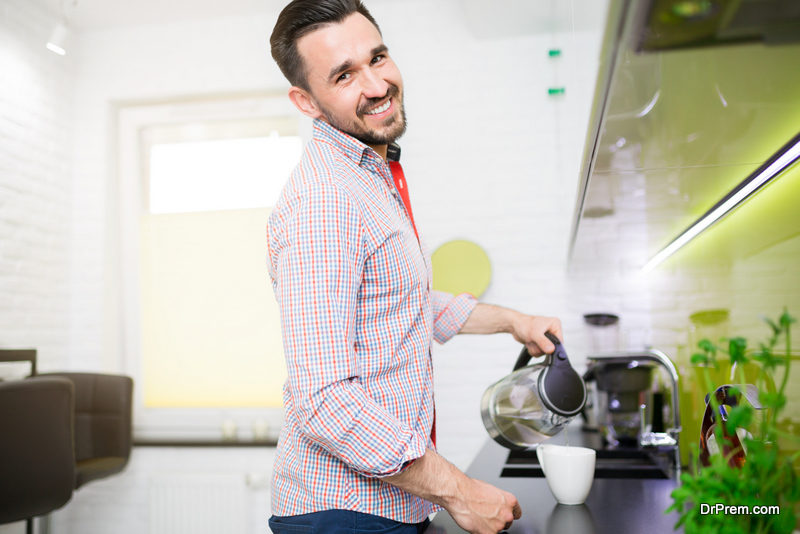 If you have a separate kitchen, there should be plenty of in-built cabinetry to store all the appliances. A bright backsplash would make it more attractive. Bright tiled backsplash will be easier to maintain. You might go for a white and black theme, lime green or even red to enhance the space. Narrow breakfast bar-type looks cool and easy to maintain. You can grab something to eat while catching up on the news on your tiny wall-mounted flatscreen.
Hang few artworks
Though the minimalist bachelor pad should be as bare as possible, completely empty walls might give a clinical, impersonal feel to your pad. Hanging just a few pieces of artworks would be just the right touch. You might frame your favorite posters or graffiti, or geometric patterns – anything which you feel happy to look at and emphasizes your taste.
The bedroom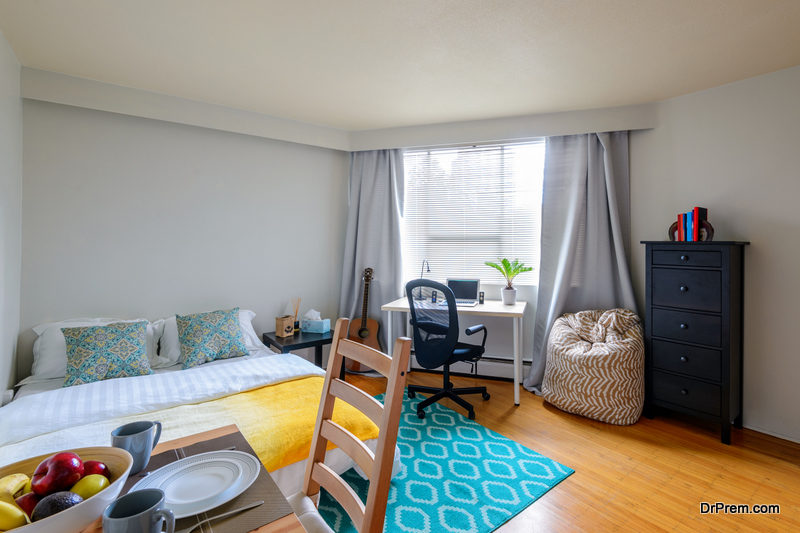 In an apartment for men, the bedroom should be functional and have enough space to move around. This is possible when you design with minimalist bachelor pad ideas. As you spend a lot of time in the bedroom, it should be uncluttered and present a tidy look, which will make you feel good when you are in it.
You can achieve this even if you're on a budget or if you want to splurge, you can get some high end minimalistic furniture for your bedroom.
Beds with canopies and headboards are out. Simplistic bed frames, such as metal bed frames, platform beds and box springs, add to minimalistic vibe. This is one of the best men's bedroom ideas.
You may not want to change your bed, but you should buy new blankets, pillows, comforters and sheets in neutral colors, such as beige, whites, gray, light purple, navy blue or black. Choose every object according to its functionality. The storage should be enough for your items, and having an overhead lamp with a great aesthetic can add to the look.
Instead of the plastic hamper, buy a wicker hamper. A plant in one corner is another nice touch, and will liven up the room.
A bright blanket or rug will be just the right dash of color. A clock on the wall will fill the wall and be useful at the same time. Keeping only the essentials and editing out the extras is one of the men's bedroom ideas for minimalistic design.
Add some plants
Plants breathe life into every space. Give your minimalist bachelor pad a fresh look by adding a few plants. Choose ones which don't need much maintenance, or go for terrariums and air plants to give a unique look. You can hang the plant from the ceiling, keep it in a sunny corner or place it on your desk.
Furniture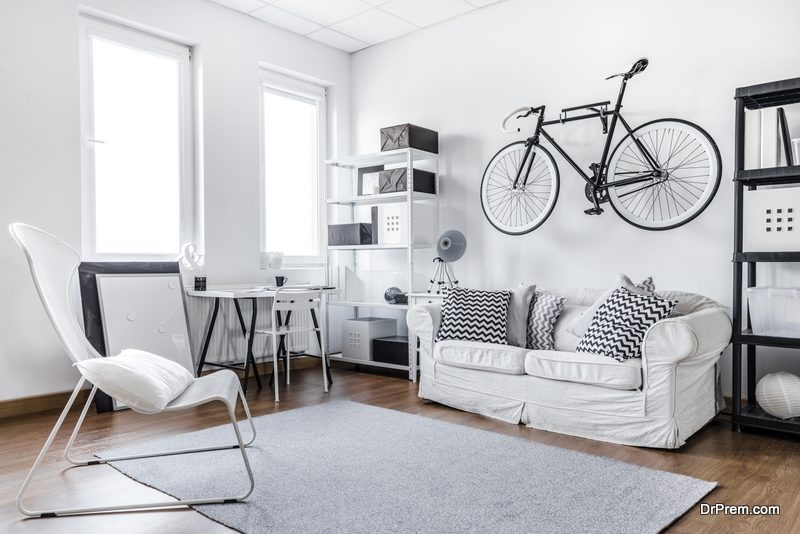 Paring down things to give your pad the minimalistic vibe depends a lot on the furniture. Seek out furniture items which have clean lines, without any ornate carving or decoration on them. You could settle for comfortable couches but their covering should be in an unimposing color.
Chest of drawers is a large but necessary storage in your bedroom, especially if you do not have a closet. But keep your dresser far away from the bed so that the room does not feel overloaded.
As for shelves, limit yourself to one shelf in the bedroom, to display a few precious mementos, books and photos. The shelf can be a nice focal point of the room.
If you do not feel happy at the thought of your bachelor pad, take it as a sign that you need to enhance the interiors in a way that your pad is comfortable and inviting. A minimalist design is perhaps the best for you, as you can revamp in your own taste but following a few essentials of this style.