The Powder Room a k a the bathroom maybe the tiniest taste of your house; it is also a room that we visit the most. Designing a bathroom is all about bringing in an element of Style with a touch of elegance and multi-functionality. There are many ways to design and decorate this particular place of your house. Here are a few inspirational ideas how you can make and transform your bathroom/powder room a beautiful space.
The classic theme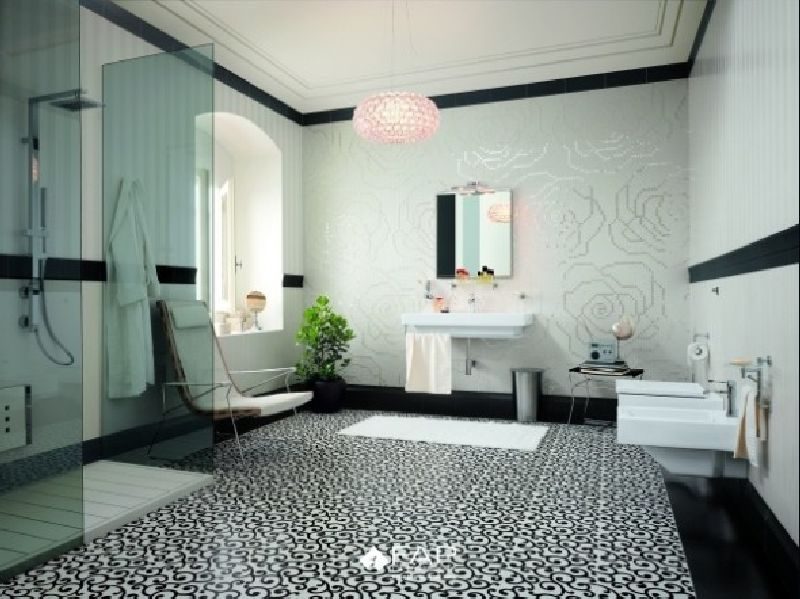 You can bring in a classic look by implementing a few traditional and beautiful aspects. If you want to give it a classic look, go for the simple white and black concept with a traditional grandfather clock. Just because it is a bathroom, it does not mean that you cannot keep a track of the time while you use it.
Tone down the look by opting for the Gold and Grey combo
The subtle touch of the grey colored look with a dash of gold will make your space energizing. You can place an antique looking mirror on a wall that is colored with an abstract design of dark and light grey along with a touch of while. For this idea, choosing graphic prints would be a good take.
Play with stripes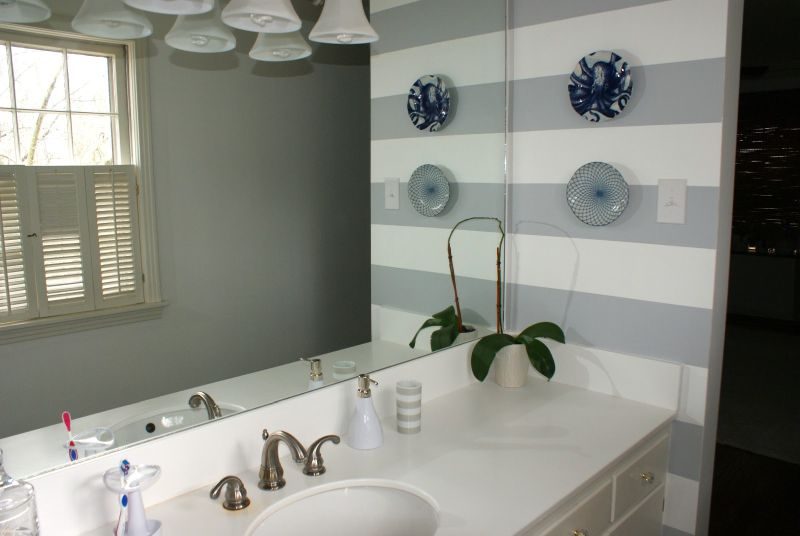 The choice of using stripes for your bathroom is one of the best ways of enhancing its looks. The beauty of stripes is that it is a timeless concept/theme, which can never go out of trend. You have so many combinations to go along with it. From a light to dark combo to the contrasting one, there are many ways to bring in the look. For small sized bathrooms, this helps to make them look bigger in height and in width.
The nautical touch of simplicity
Want to keep things simple, well why not go for the most beautiful all white team with a touch of blue. From a white framed mirror to white walls, sink and bathtub (if space allows); you can add the element of color by giving a touch of blue as well. Choose silver-colored accessories to maintain the simplicity.
Time to go floral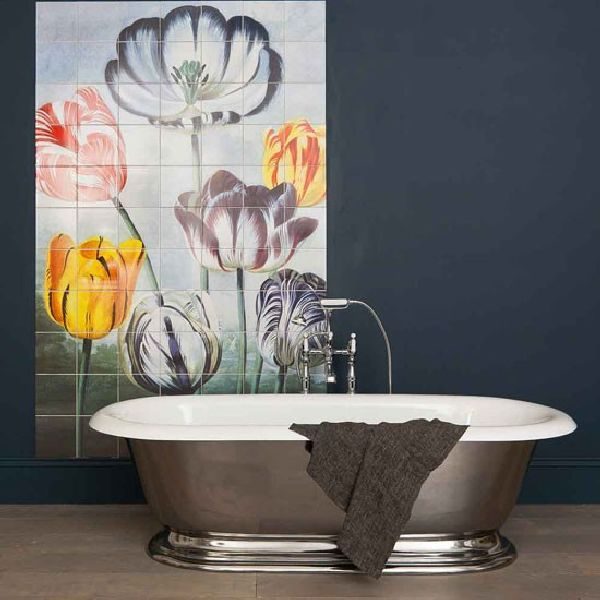 Floral prints have always been on the charts, these prints never go out of style. In this idea, you can choose to go with floral wallpaper that has a dark chocolate brown base with colored floral prints. For your sink, go for a stylish look by choosing a beige and brown combo marble inspired ceramic sink and gold accessories. To add the perfect touch and finish, opt for a mirror that has a bronze or copper border.
Bring in the Accents
Keeping your bathroom décor to the bare minimum is a good thing. You can always enhance your interiors by choosing a nice design or accent to the walls and highlight a few areas. One of the ways to do is by making your powder room a style statement. Create a transparent theme by choosing simple elements such as a white countertop and sink, beige colored curtains/shower curtain, a yellow colored mirror etc.
The animal print inspiration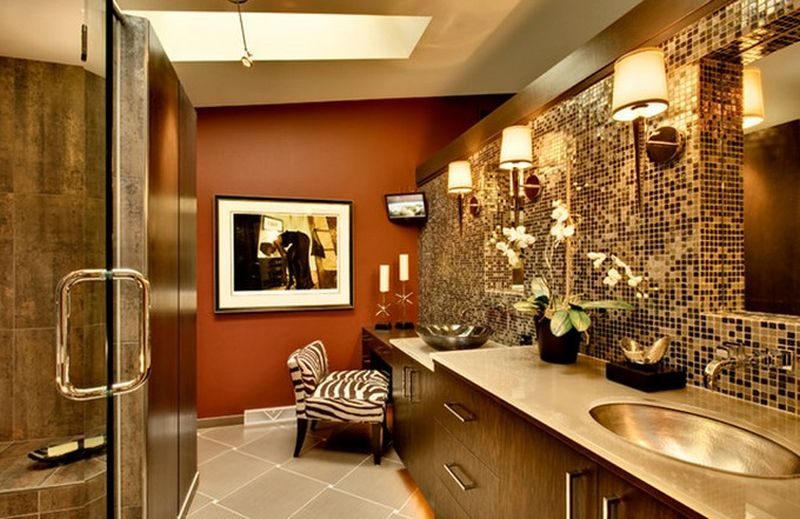 A classic theme that has captured the heart of millions, the animal print inspiration is a sheer delight. One of the most commonly used prints is the leopard print. You can choose different colors while opting for this print or even go with the traditional look of various hues of brown with a touch of black and white.
Go for the modern touch
Bright colors, abstract designs, eye appealing themes, and furnishing that blend in well. For the walls, you can choose colors like blue, light teal, aquamarine, light yellow or even orange. The accessories and lighting fixtures can be colorful as well. All this will go beautifully with a marble or granite countertop placed on a traditional wooden closet.
The vintage touch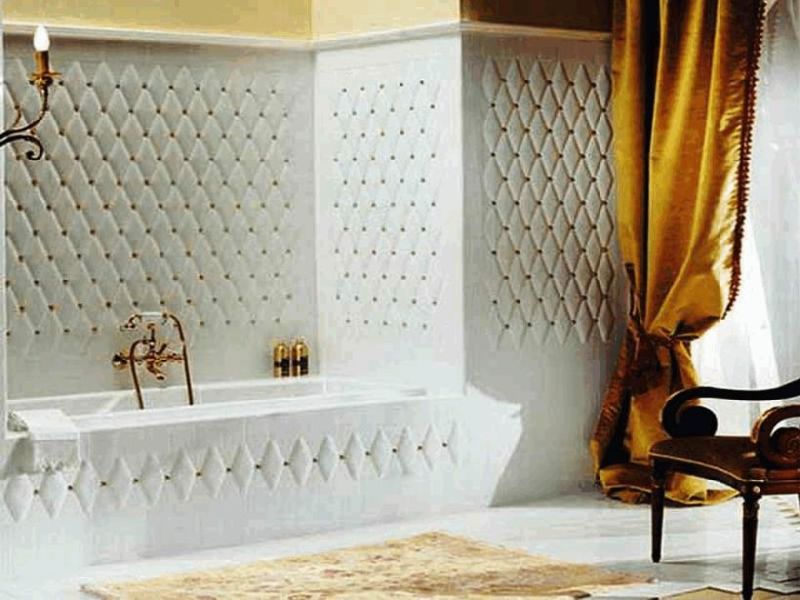 The good thing about the vintage look is that it is priceless. When you choose to have this theme for your powder room, you are opting for a classic look that has its own uniqueness and beauty. Delicate and elegant detailing, beautiful designs, neutral and soft colors are the main elements of this look. You can blend this theme so beautifully and bring in the elegance and style that this look has to offer.