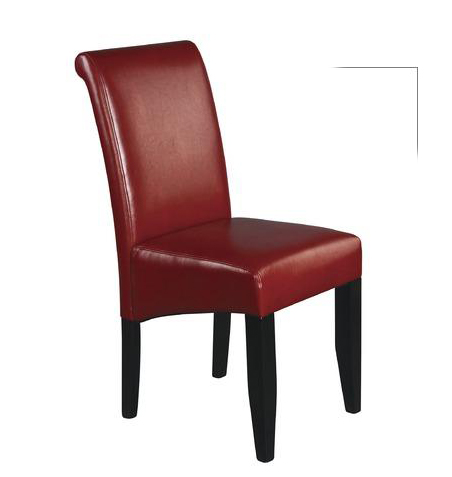 Obtaining chairs that blend well into the decor and accent it at the same time is what every consumer seeks. With their great variety, upholstered chairs fit the bill perfectly. Here we have created a list of the 10 most elegant upholstered dining chairs. Have a look.

1. OSP Designs Parsons Chair
BRAND : OSP Designs
PRICE : USD 79.89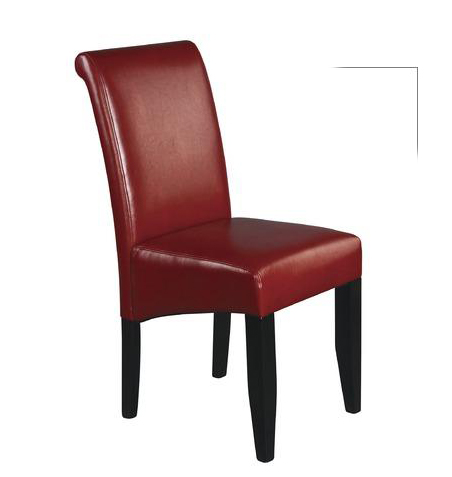 Weighing just under 24 lbs, this wooden, upholstered dining chair has been made in the transitional style with a leather seat. Available as single chairs, one can purchase as many necessary to make a set or sets. They come in color variants such as coffee bonded leather, espresso bonded leather, cream bonded leather, red bonded leather and green bonded leather. Dark espresso, solid wooden legs and an attractive design complements most home decor.
USP
This chair has been made to stand up to abuse and rough use and its design is also impressive.
PROS
You can choose from 5 different colors and shades.
One can make a set of number of chairs since they come as individual pieces.
The chair is durable and sturdy.
2. International Concepts Rockwood Castored Chair
BRAND : International Concepts
PRICE : USD 149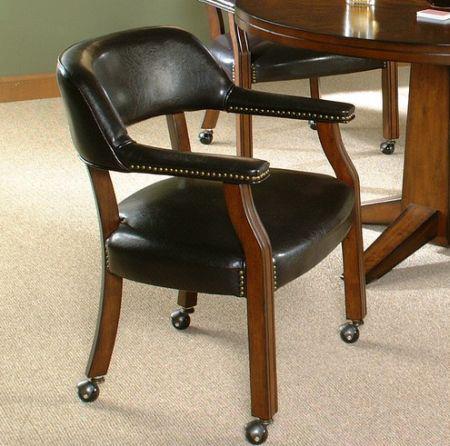 This is a multi purpose chair that could be utilized from seating an additional person at the dining table to acting as a resting chair in the kitchen. It has been provided with wheels for easy mobility and thee have to be assembled on purchase. At a height of 20 inches from the floor, it is comfortable for most people. The chair features a dark brown vinyl upholstery and an antique cherry finish.
USP
The multi purpose chair provides an excellent, luxurious 'extra' dining room chair with easy mobility.
PROS
Available as a separate piece it can be constituted into a set of any number.
It comes with arm rests for increased comfort.
Wheels make it easy to move around the home.
3. Hillsdale Furniture's Monaco Dining Chair
BRAND : Hillsdale
PRICE : USD 182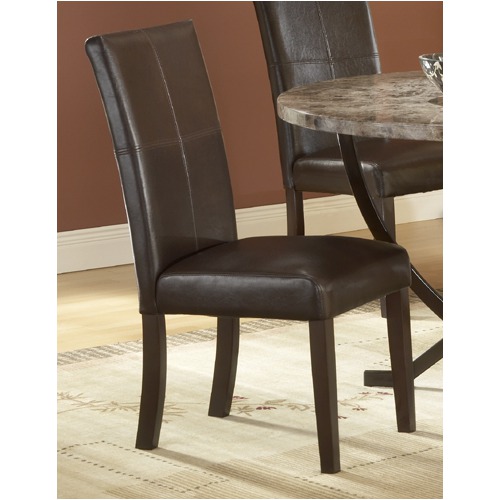 A rich brown, upholstered leather seat has been featured in this Parson styled chair. Its stitched accents add to its style and the solid wood construction ensure its longevity. The chair requires assembly at home, but once done, one can rest assured and comfortable for years. The dark wood finish make the chair look casual and contemporary at the same time. The chairs come as sets of two and are part of the Monaco line of dining chairs from Hillsdale.
USP
These are comfortable and classy looking modern chairs which will accent any office or home space.
PROS
It is available in casual, contemporary and modern style options.
The chairs look classy and are comfortable to sit on.
4. Wildon Home Fairfax Parson Chair
BRAND : Wildon Home
PRICE : USD 238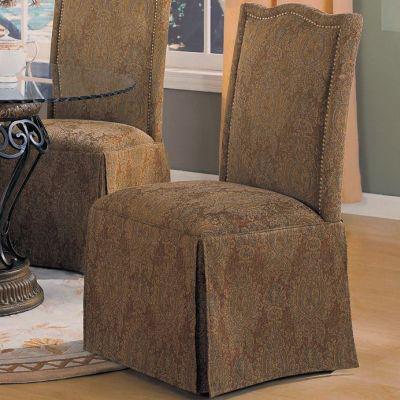 This Fairfax Parshon chair has been traditionally styled in the red color with green floral patterns. The base is dark metal with terracotta poly and the seat is fabric. Available in upholstered or dinette types, the chair can be used anywhere inside the home. The chairs can be purchased only as sets of two but once you sit on them, you will most probably want more!
USP
This Parson chair has been luxuriously upholstered to provide unbelievable comfort and high quality at a neat price. The backrest is as comfortable as the seat.
PROS
Fabric seats prevents the discomfort from sweating while sitting for long hours.
The visual beauty is enhanced by the sewn inlay patterns on the fabric.
5. Safavieh Becca Leather Dining Chair
BRAND : Safavieh
PRICE : USD 249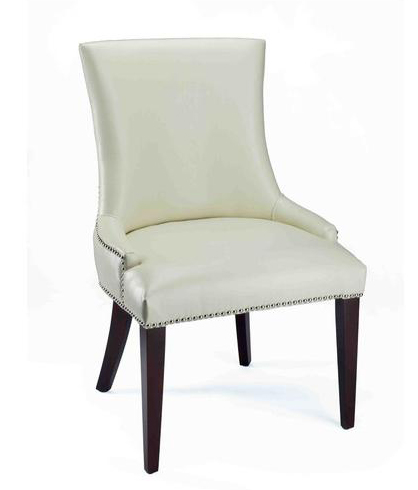 The Safavieh dining chair comes beautifully upholstered in cream leather that is also soft and 'creamy'! The frame and the legs have been solidly made from beechwood and there are no doubts about the durability of the chair. Since the chair is available as a single piece, it can be used anywhere in the house, from the dining room to the living room. It adds a modern touch to any environment.
USP
The sophisticated chair with stunning studs and bonded leather looks great and scores over other chairs sheerly because of its high quality.
PROS
As they are available as single chairs, it makes them usable in any place with as many numbers in a set.
The chair is broad and designed for maximum support and comfort.
6. Rowan Upholstered Dining Chair
BRAND : Rowan
PRICE : USD 254.32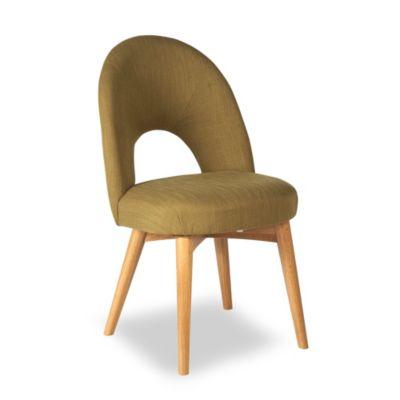 This retro chair is not retro in its comfort or build quality! Constructed from American white oak, the chair has also been given a mid century styling to bring in a touch of antiquity into any indoors. The white oak veneers have also been used in the construction. The seat is comfortable and made of fabric.
USP
The Rowan dining chair is a sophisticated and stylish looking chair with an air of antiquity about it. It is ergonomic and also very comfortable to sit on.
PROS
This is one of the few retro dining chairs available in the market.
The styling and design are such that they accent the surroundings with a mid century feel.
7. Caster Dining Chair in Autumn Rust Finish
BRAND : Caster
PRICE : USD 303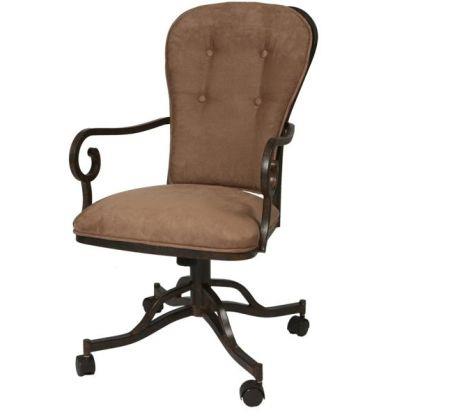 The chair features a high quality foam cushion and a moccasin suede upholstered seat. The arms of the chair add to the comfort and the elegant designing makes it pleasing for the eye. The frame has been entirely made from an autumn rust wood. Four nylon casters ensure mobility and also prevent the floor from getting scratches.
USP
This heavy duty, swivel and tilt chair has been designed for classic looks but it also presents modern comforts along with great durability.
PROS
The chair can be swiveled and tilted into any orientation.
The heavy duty frame adds to the durability.
It is very strong and capable of bearing heavy weight loads.
8. Sabrina Side Chair with Z Frame -Set of 2
BRAND : Chintaly
PRICE : USD 334.78
This chair that arrives in sets of two is constructed as a 'Z' frame with perfect poise and balance. The seats and backs are of a sturdy metal construction and are sure to last for a long time. Adding to the durability is the grey upholstery made of polypropylene. The chair has no arms and gives a very official look and feel. The chair will suit well in the dining hall, the study and the living room too.
USP
The chair, made of sturdy and robust metal, has been decked with upholstery that has a blend of modernity, style and panache to stand the tests of time.
PROS
It is comfortable and ergonomically designed.
No assemble required.
Black upholstery helps the chair look clean for long times.
9. Wood Frame Caster Dining Chair
BRAND : Pastel Furniture
PRICE : USD 463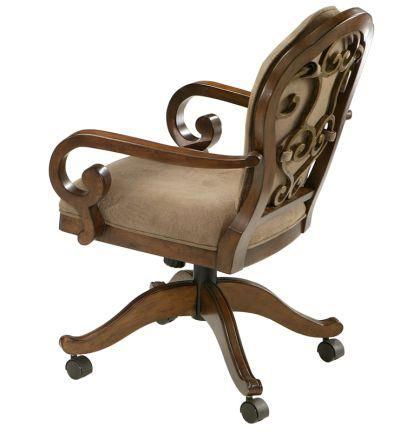 With a Dakota Toffee fabric seat that has been upholstered with great care, this wood framed, foam cushioned chair boasts of being hand polished and painted. The intricate designs and carvings add to the elegance and beauty of the chair while the T nut construction adds durability and longevity. The cool chair is sure to add a tinge of warmth to any decor. The four wheels give it an extra mobility while the metal accents lend added beauty.
USP
This heavy duty, luxury chair adds an element of swiveling casual luxury to any home. It is decorative in its looks and very capable in its functionality.
PROS
The decorative looks give it high aesthetic value along with the functional value.
Robust construction adds to the durability.
Swiveling capabilities and the four wheels add to flexibility and movement.
10. Grand Rapids Chair Melissa Anne Custom Back Side Chair
BRAND : Grand rapids
PRICE : USD 1027.96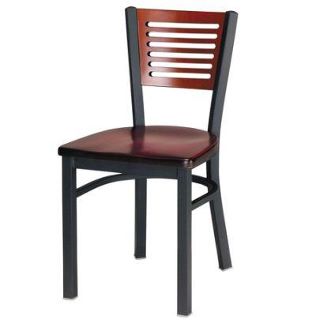 These metal chairs arrive in sets of four and are constructed for commercial, rough usage. Two inches of high resilience foam which is also known as the Cadillac of cushioning, provides the ultimate comfort in seating. The premium carpet glides and the brazed joints that have been hand tailored for maximum strength provide a beauty of a rust free chair. The high quality plating grade steel used in its construction is several notches above the industry standard.
USP
The chair from Grand Rapids is a highly customizable, all purpose one to suit your needs in the dining hall, bar room, cafe, restaurant or office. It is sturdy and elegant at the same time.
PROS
It is highly durable since it is made of high quality plating grade steel.
It has an elegant designing and sturdy construction.
It is luxurious and has a very comfortable seating.