The way you design your house speaks volumes about your personality. A well-designed house not only looks attractive, but it also gives a positive feeling whenever a person steps inside it. There are different ways you can design a house and use even the most smallest space in the most effective manner. One of the best ways to create an impression is to have a nicely designed foyer. Let us take a look at some of the factors and ideas you can use to create a good impression and have a beautifully planned foyer.
Choose a nice Chandelier or lighting fixture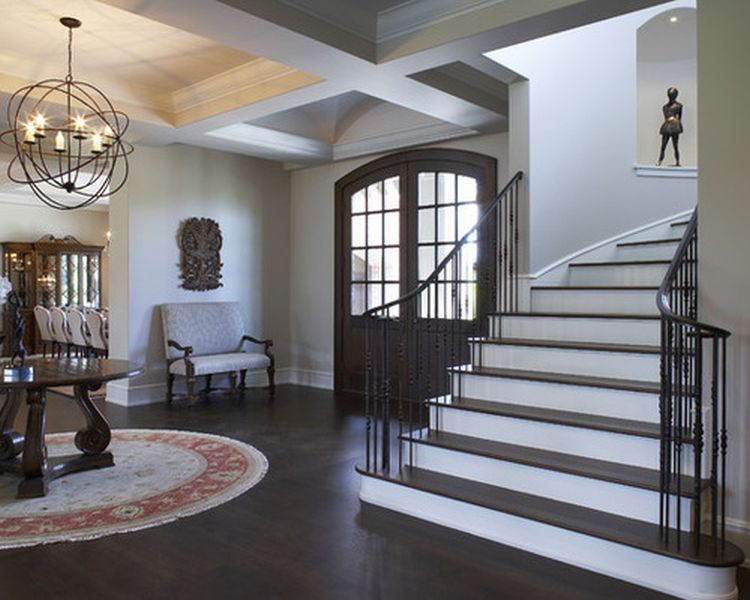 Proper lighting at the entrance is necessary and there is nothing better than to have a lighting fixture that looks attractive and beautiful. You can opt for a Chandelier or any other elegant looking lighting fixture that blends in well with the decor of the entrance. It would be advisable to choose colors that can blend in with any kind of decor especially if you have plans of renovating your place or making changes to the decor.
The choice of colors on the wall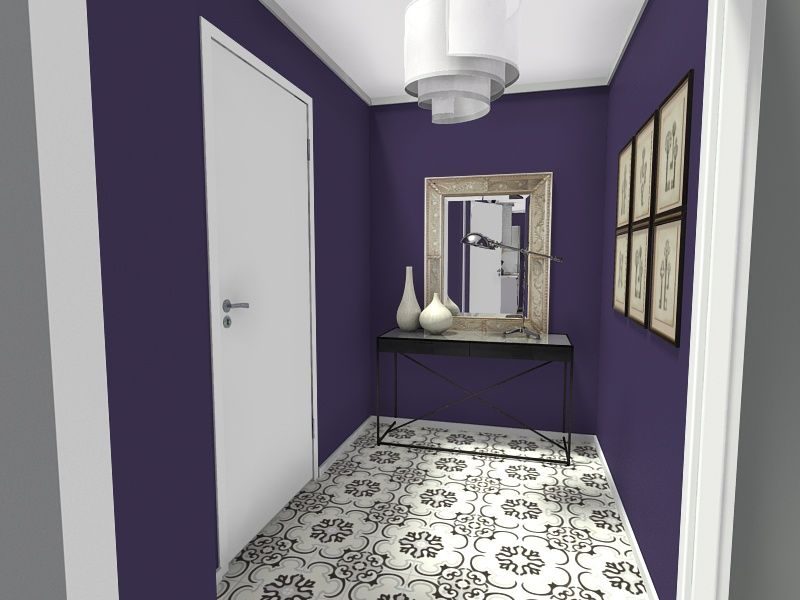 Another important factor that you should keep in mind is the colors you plan to have at the entrance. While classic colors likes various shades of white, brown and pastels colors look really nice, you can also consider going a little wild and choose colors like orange, yellow or even green. While choosing the color, keep in mind, that the shade you use should not hurt the eye or make the entrance look very dull. Even a contrasting concept like blue and white, baby pink and white, white and gold, gold and brown etc will make your entrance look beautiful.
Make the entrance look big and airy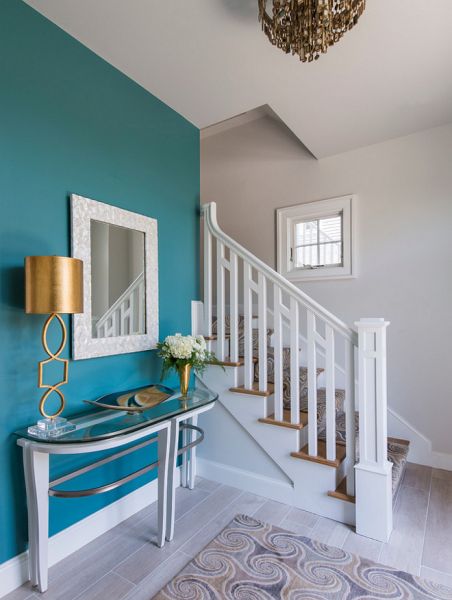 The choice of design is important when you want to create a good impression. One thing that you should always remember is that if an entrance looks big and airy, it not only gives a nice impression but also helps in bringing a positive vibe. For this, you can consider nice long windows to bring in more light during the day. If you have a small sized house, do not pack the entrance with too many things, you can consider keeping a nice long vase near the door or have one or two painting or frames on the wall of the entrance. Similarly, for big houses, ensure that you decorate the entrance well so that it reduces the height and length and makes the entrance look perfect.
Furniture or no furniture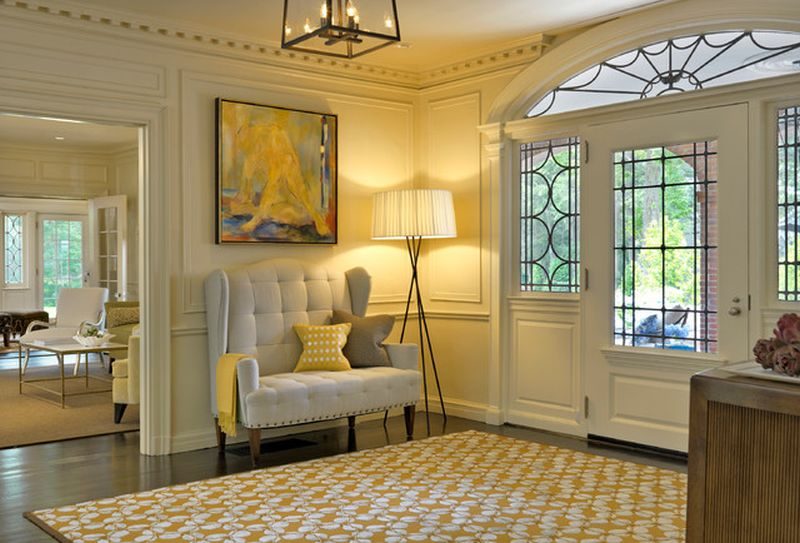 Not every entrance has the space to keep furniture. If you do decide to have something there, you can opt for a nice center table or have a single sofa at the entrance with a side table next to it. For a bigger house, you can go the whole nine yards by keeping tables on either sides of the entrance. Another option would be to have a decently sized drawer with two chairs on either side. You can place this on the sidewall of the entrance.
Mix and match elements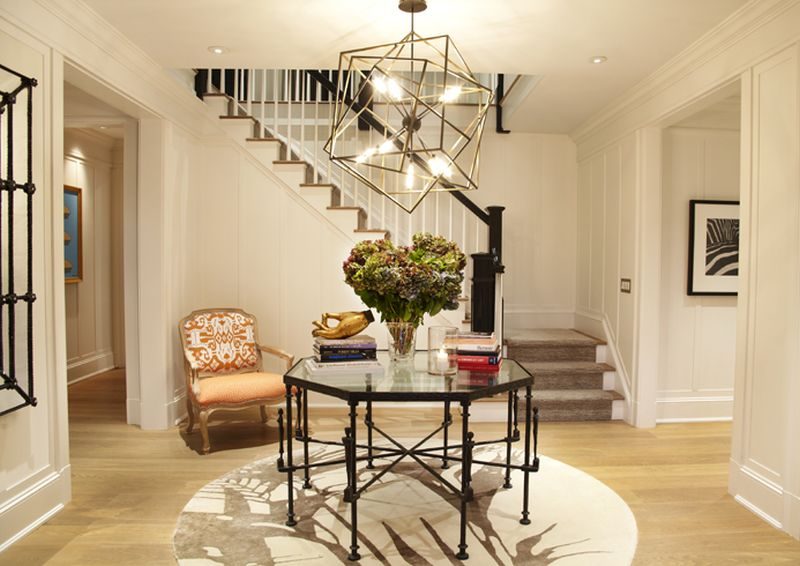 The mix and match design can never go wrong if you use the right combinations or plan your design and layout properly. One such idea would be to have brown colored floorings with a white and brown combination stair railing and the wall painted in golden yellow with a white border. You can add a bronze colored chandelier to sober down the yellow tint of the wall. For the furniture, you can consider white colored tables with gray and white chairs. Other color combinations that will look good for an entrance can be white colored walls and dark brown doors, wooden flooring with white walls, metal fixtures, and decorative items.
Bringing in plants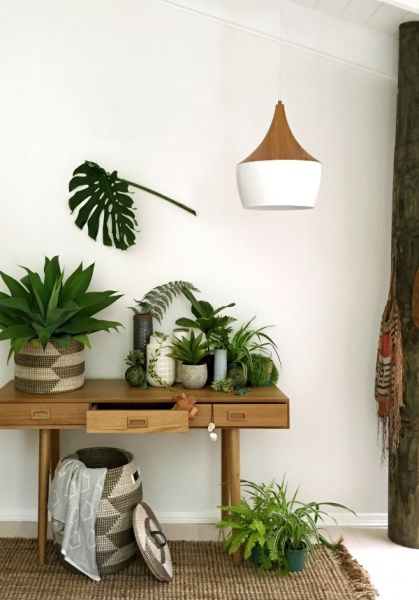 Having plants in the house is always a good idea as it brings in a lot of life. If you plan to keep plants at the entrance, instead of keeping regular pots, you can invest in designer or unique looking pots. This will not only give you the benefit of having plants in the house, however, with the help of the pots, you can decorate your entrance even better and make it look beautiful just by placing a few pots on the corners of the wall.