Sometimes due to lack of space or budget constraints, we may not be able to invest in new furniture. During this time, using the things that we have is a wise decision. Having a nightstand next to a bedside has many advantages; however, it is not necessary that you need to invest in a separate one when you can make use of what you have. The ability to be creative and use your resources to the maximum level is what home decoration is all about. Here are some cool alternatives that you can use to take care of the nightstand requirement you have.
Using your dining table chairs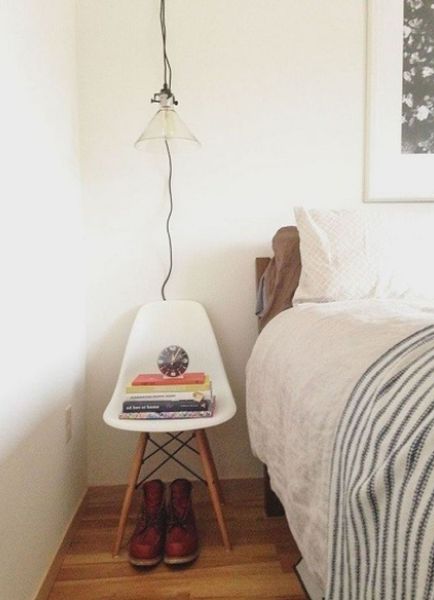 The dining table chairs are not used all the time; this is why, you can always find alternative ways to make them useful. One touch idea is to convert one of your chairs into a bedside nightstand. You can decorate your stay by putting all the necessary items that you would need within arm's reach. This is a perfect option for those living in a studio apartment or a small sized house.
Wooden crates will also do the trick
Instead of spending too much of money on bedroom furniture, you can opt for a nice and cheaper alternative. Consider investing in wooden crates or make one yourself. You can add a small wooden plank to create an extra shelf so that you can store more things. To decorate it, consider placing a small indoor plant or flower, a nice small sized night lamp or even use it as a bookshelf.  To increase the height you can always place 2 or more crates one on top of the other and make it a multi-storage piece of furniture.
Make use of your dresser as an alternate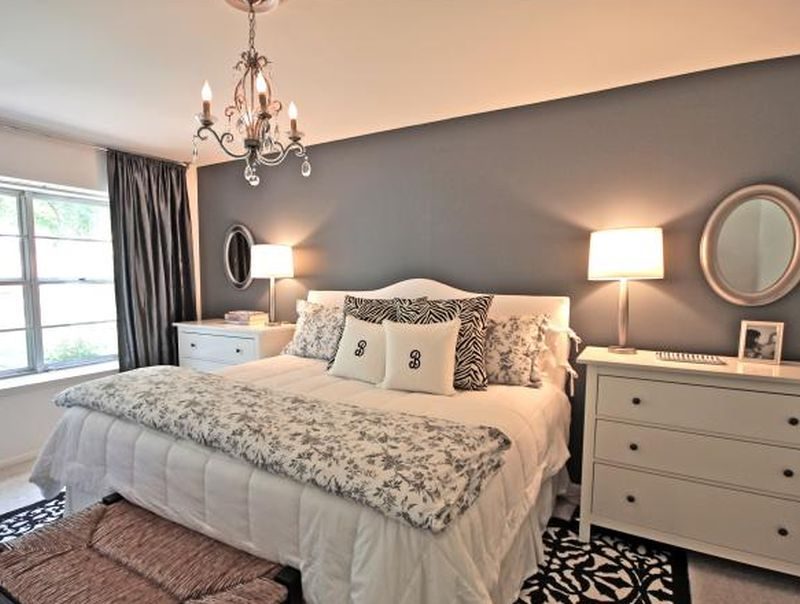 Instead of investing in a separate nightstand, you can convert your dresser into one. This is a wonderful addition for both large and small bedrooms. It will also help to make the room feel cozier and add beauty to your bedroom. The dresser or the chest of drawers will not only help to save space; but also serve the purpose to store essential things that you would need.
Use your centre table if required
Having a centre table in the house can always be a very handy. This option is ideal for single people or people living in studio apartments. Let your centre table serve by catering to your various needs. You can even convert it into a study desk or an office workspace right next to your bed.
Make use of your stool
Almost every household has a stool available undefined when you are not using it, you can always placed it next to your bedside. This will help to stock up your books, charge your mobile phones or even let you keep your laptop aside when you are going to sleep. If you have an upholstered uneven stool, you can use it to place your books, laptop or even keep your mobile phone.
Use a small ottoman or Pouf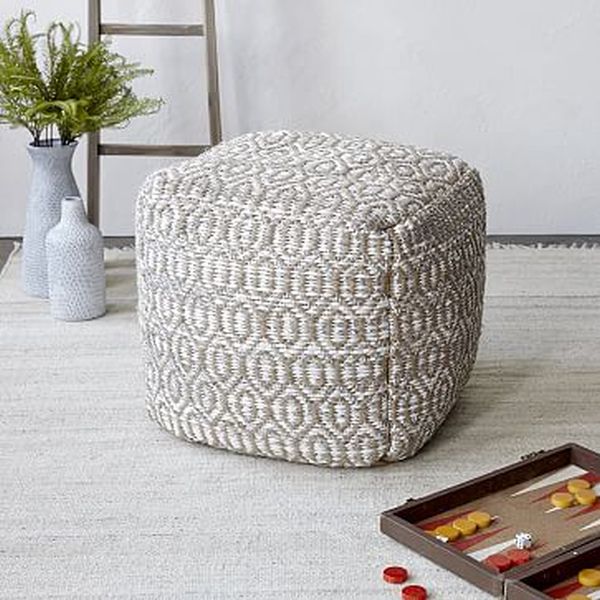 An Ottoman could be a great alternative to bedside table. This normally helps to resolve your sitting arrangement; but in fact, you can also use it as a bedside table. You can choose to keep whatever you want without having to get out of bed every time.
Reuse your old trunk or draw
If you have recently made changes to your house, you can use the old drawers as a hanging nightstand table. Another alternative to this idea is by using your steel trunk as a built in storage option along with a bedside table.
Convert your stepladder into a bedside table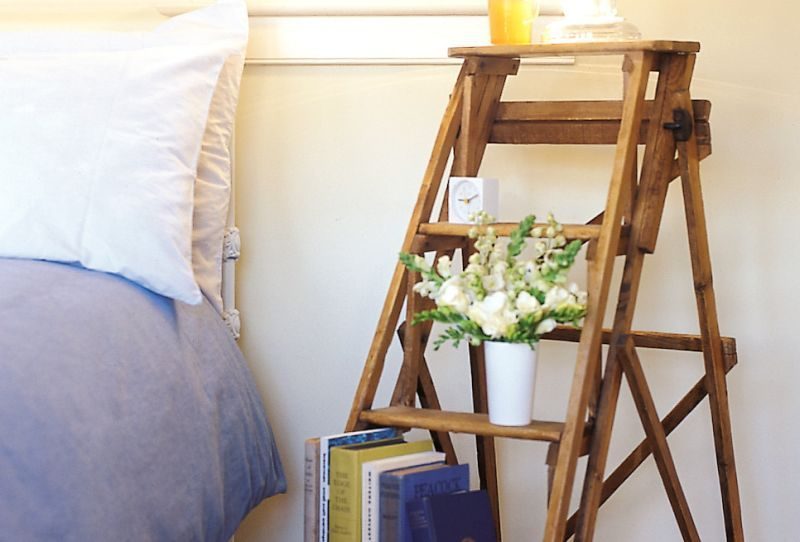 A stepladder is always a handy piece of furniture that every house should have. When you are not using it, you can convert this piece of furniture into a multi-storage rack. Place a small sized lamp on the top- most shelf and decorate the space the way you want. You can always put things aside and use the ladder when there is a need. This will help to keep your bedroom organized and give you the flexibility of decorating your room the way you like.